Ad Astra Chandler Children's Choir
Aimee Stewart, director
In its 15th season, the Chandler Children's Choir created an ensemble of top performers ages 16-18 who demonstrated a desire to excel, naming it Ad Astra (to the stars). Founding members had been singing with CCC since their earliest opportunities, many since ages 6 or 7. Now high school juniors and seniors, Ad Astra enables singers to launch into future musical opportunities after graduation, either as a hobby or academic pursuit. Their excellence and hard work paid off. In 2023, they released an album, "To the Stars: An Ad Astra Christmas", and were invited as featured performers at the Arizona Music Educators Association conference. They are extremely honored to be chosen to perform at WACDA 2024.
Aimee Stewart is the Founder and Artistic Director of the Chandler Children's Choir in Arizona. Since its inception in 2008, CCC has grown from a young choir of 27 singers to a comprehensive choral program with 5 choirs. She also conducts the Chamber Singers at Chandler-Gilbert Community College, the Tempe Community Messiah, has served as President of AzACDA and currently serves as Community & Children Youth R&R Chair for WACDA. In 2022, she was awarded AzACDA Choral Director of the Year. Mrs. Stewart is in a Master's program for Choral Conducting with Dr. Jace Saplan at Arizona State University. She enjoys skiing with her husband, Adam, and their four children. She is incredibly honored to be performing for the Western Region conference.
Biola University Chorale
Dr. Shawna Stewart, director
The Biola University Chorale is comprised of 37 undergraduate voices from various disciplines on campus. Nationally, the Chorale has enjoyed performances on the Tonight Show, at Disney's D23 Convention, in Carnegie Hall and with the Pacific Symphony Orchestra. Regularly touring domestically and internationally, the Chorale's most recent tours include South Korea, Ireland and Italy. Each spring they join forces with the Biola Symphony Orchestra for the performance of a major choral-orchestral work. Recent performances have included Orff's Carmina Burana, Mendelssohn's Elijah, Verdi's Requiem, and J.S. Bach's Magnificat.
The Chorale performed at the American Choral Directors Association Western Region Conventions in 2016 and 2020, and the National Collegiate Choral Organization's 7th Biennial National Conference in November 2017.
Dr. Shawna Stewart is the Director of Choral Studies at Biola University in La Mirada, CA where she conducts the Biola University Chorale and the Vocal Jazz Ensemble. As associate professor, she teaches courses in conducting and choral methods. Dr. Stewart holds degrees from the Eastman School of Music (M.M. Conducting), the University of Southern California (D.M.A. Choral Music), and has served on the faculty at John Brown University and North Dakota State College of Science. She has also held the position of Music Director at several churches in CA and NY.  Presently, with an additional interest in early childhood music education, she is the owner of and teacher at Children's Music Academy in Whittier, CA.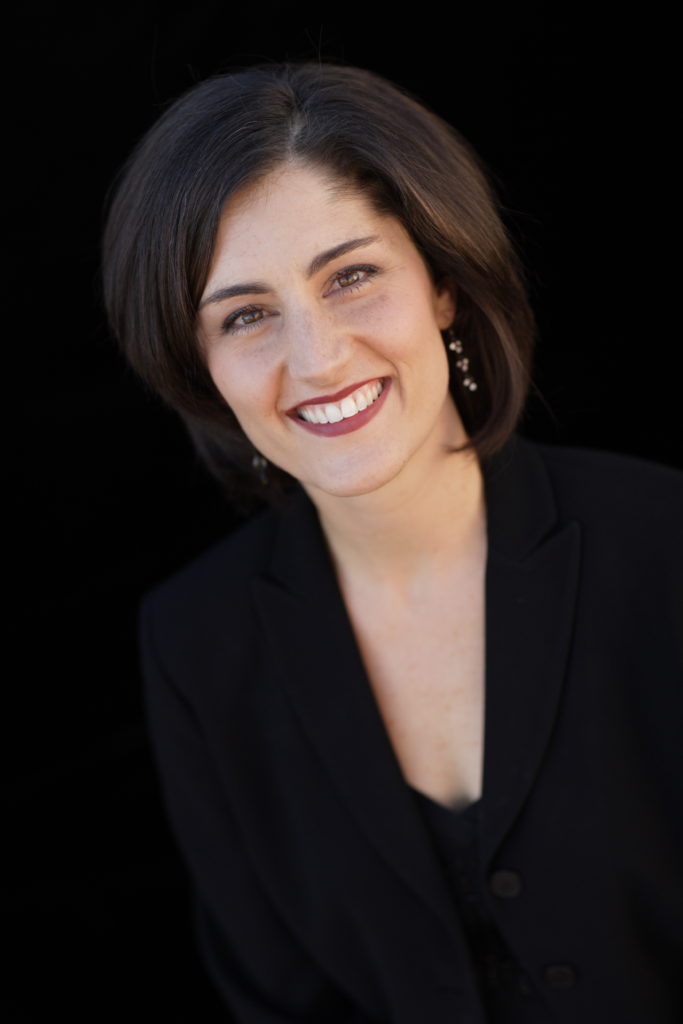 Cal Poly Cantabile
Scott Glysson, director
Under the director of Scott Glysson, Cal Poly Cantabile was founded in 2018 and is an advanced ensemble specializing in the performance of repertoire for soprano and alto voices. With 60 singers representing nearly every major at Cal Poly, Cantabile is a more than 75% non-music major ensemble. Since its creation Cantabile has commissioned more than 4 new works by contemporary composers and has a mission of creating, celebrating, and performing music of female composers. Among other accolades, Cantabile has been honored with performance invitations to the California Music Educators Association Conference in 2021, Lincoln Center NYC in 2022, and Western Region ACDA in 2023.
Scott Glysson is the Director of Choral Activities and Vocal Studies at Cal Poly University in San Luis Obispo, California. Dr. Glysson has been recognized for his achievements in conducting in both the choral and orchestral genres. He has led performances on five continents and over ten countries. In 2013 Glysson was honored as a finalist in the ACDA National Choral Conducting Competition. Glysson has previously held the position of Director of Choral Activities at West Liberty University in WV and Artistic Director of the Tucson Masterworks Chorale. Glysson has presented and published in the fields of music education and musicology. Glysson holds a DMA and MM in Choral Conducting from The University of Arizona and a BM in Music Education from George Mason University.
Crystal Children's Choir
Dr. Karl Chang, director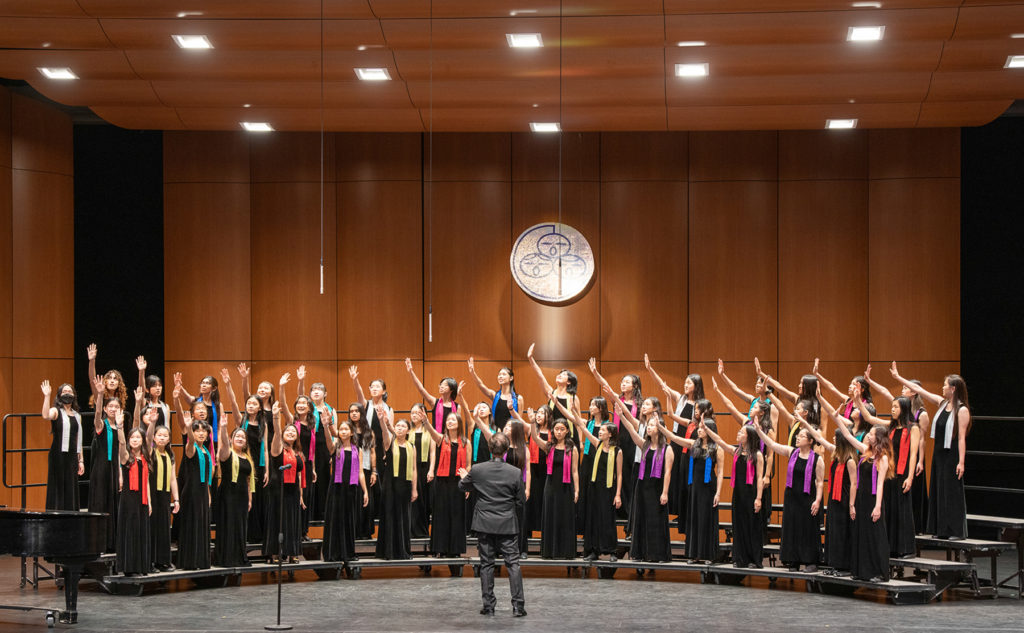 Established in 1994 within Northern California, Crystal Children's Choir was founded with the mission: to pursue choral music excellence and to serve as a cultural ambassador harmonizing the finest facets of Eastern and Western cultures. Crystal singers from more than 120 schools, and their performances have graced the stages of numerous globally renowned venues. They have received prestigious invitations at conferences including Kodaly, CMEA, MENC, and ACDA.
Over the past three decades, they have established an education platform that serves as a nurturing ground for choral arts and addressed the pressing need for arts funding in California to provide a distinctive musical experience, enriching education, and supportive environment for young singers to strive for choral excellence, the values of collaboration, a passion for music.  
Dr. Karl Chang has held the positions of co-founder, president, and conductor of Crystal Children's Choir since 1994. He has led performances and interest sessions at ACDA conferences and is a frequently sought-after guest conductor for youth and collegiate choirs throughout Asia. Dr. Chang is the visionary behind a 200 mixed-voice community chorus started at Stanford University in 1981. Over these 43 years, he has served as the founding director, consistently igniting musical passion within singers from diverse backgrounds, nurturing their adoration for singing. He holds a Doctoral Degree in Education Leadership, an MBA, and an M.S. in Engineering.  Despite these accomplishments, his unwavering dedication to choral music has driven him to pursue his lifelong aspiration in the realm of children's music education.
California State University, Fullerton University Singers
Dr. Robert Istad, director
California State University, Fullerton's University Singers, led by Dr. Robert Istad, perform all over world and regularly collaborate with Los Angeles Philharmonic Orchestra, Pacific Symphony, and Hollywood Bowl Orchestra. They performed at the 2013 ACDA National Conference, 2013 NCCO Conference, and 2012 and 2018 ACDA Western Division Conferences. Recent tours include performances throughout Eastern Australia, Spain, Scandinavia, and Russia. They perform with conductors Gustavo Dudamel, Carl St.Clair, David Newman and John Williams; artists Andrea Bocelli, Patti LuPone, Sutton Foster, Skylar Astin, Brian Stokes Mitchell, Juanes, Beck; and are heard on Sony Records' "John Williams and Steven Spielberg: The Ultimate Collection" and Yarlung Records' "Nostos: The Homecoming of Music." In July 2024, the University Singers will embark upon a concert tour of Rwanda and South Africa.
GRAMMY Award Winning conductor Dr. Robert Istad who "fashions fluent and sumptuous readings" (Voice of OC) with his "phenomenal" artistry (Los Angeles Times), is Director of Choral Studies at CSU Fullerton, where he was recognized as CSUF's 2016 Outstanding Professor. He is also Artistic Director of Pacific Chorale. His artistic impact can be heard on two recent recordings featuring Pacific Chorale: "Mahler's Eighth Symphony" with the Los Angeles Philharmonic Orchestra conducted by Gustavo Dudamel on Deutsche Grammophon (2021), for which he prepared the chorus and was awarded the GRAMMY Award for Best Choral Performance, and "Ecstasies Above: The Music of Tarik O'Regan," which he conducted, on Yarlung Records (2020). He serves on the Executive Board of Chorus America and Dean of Chorus America's Conducting Academy.
Jazz & Tonic, Cal State Long Beach
Jonathan Arenas, director
Jazz & Tonic is one of two premiere vocal jazz ensembles at the Bob Cole Conservatory of Music at California State University, Long Beach.  The group features a diverse educational background, having members who are jazz studies majors, music education majors, composition majors, and other non-music majors. Following in the footsteps of CSULB's flagship vocal jazz ensemble, Pacific Standard Time, Jazz & Tonic has begun to earn acclaim. Most recently, they were recognized as the winner of the Downbeat Magazine Student Music Awards undergraduate vocal jazz ensemble division. Now, the group is immensely grateful to be selected to perform at the upcoming Western ACDA conference in Pasadena, CA.
Jonny Arenas is an educator, vocalist, and arranger based in Los Angeles and is currently a part of the jazz faculty at the Bob Cole Conservatory of Music at California State University, Long Beach. There, he majored in Jazz Studies, was mentored by renowned vocalist and educator, Christine Guter, and graduated with both his bachelor's and master's degrees. As a member of the jazz faculty at CSULB, he directs Jazz & Tonic, one of the two premier vocal jazz ensembles there. Since being hired in Fall 2021, he has helped the group earn two Downbeat Magazine Student Music Awards, one of which for being the sole winner of the undergraduate college division.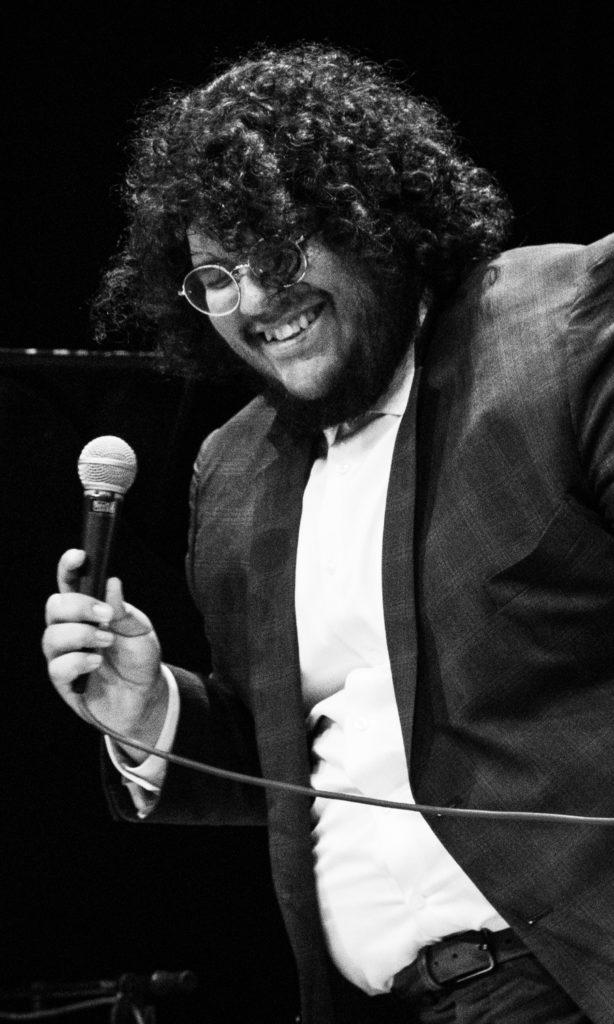 Mater Dei High School Chamber Singers
Dr. Jodi Reed, director
Based in Santa Ana, California, the Mater Dei High School Choral and Vocal Program serves a diverse Southern California community. With 11 ensembles and nearly 300 singers participating in athletics, ASB, the arts, campus ministry, and more, the program consistently excels, earning superior ratings at competitions and festivals nationwide. Notably, they recently performed solo concerts at Carnegie Hall and renowned venues in Italy. Graduates of the program thrive in artistic careers ranging from the Metropolitan Opera to Broadway, upholding the legacy of excellence cultivated at Mater Dei. Additionally, the program prioritizes nurturing the spiritual growth of every singer, reflecting Mater Dei's core values.
Dr. Jodi Reed, a conductor and pianist, began her musical journey with competitive piano studies at a young age. Introduced to choral music in high school, she has led university, school, church and community choirs. Notably, she was the first female conductor to win multiple first-place awards in Golden State choral competitions. She has conducted her choirs on NPR's From The Top, at Carnegie Hall and St. Patrick's Cathedral in New York, as well as iconic international venues like La Sagrada Familia and St. Peter's Basilica. She is currently the Director of Choral and Vocal Music at Mater Dei High School and a Musical Director with Millennial® Choirs & Orchestras. Jodi also cherishes family time and enjoys scuba diving and any time spent at the ocean.
Ragazzi Boys Chorus, Silicon Valley
Kent Jue, director
GRAMMY Award-winning Ragazzi Boys Chorus, Silicon Valley, provides outstanding musical education and performance opportunities for boys and young men ages 5 to 18. The largest boys' chorus in the San Francisco Bay Area, Ragazzi serves over 200 choristers in six tiered levels. Under the leadership of Artistic and Executive Director Kent Jue, Ragazzi shapes the lives of boys from diverse backgrounds, developing tenacious and confident young musicians who pursue choral arts of the highest caliber together. Ragazzi is a prominent collaborator, providing vocalists for notable organizations, including San Francisco Opera, San Francisco Symphony, Opera San Jose, and Symphony Silicon Valley. Ragazzi tours annually throughout the world to widen chorus members' musical and cultural horizons and deepen Ragazzi's reputation for performance excellence.
Kent Jue leads the GRAMMY Award-winning Ragazzi Boys Chorus, Silicon Valley, as the Artistic and Executive Director. Known for building high-level musicianship skills through his engaging style and rapport with youth, Kent is in demand as a guest conductor, adjudicator, educator, and mentor. A passionate advocate for collaboration, he has conducted Ragazzi with the San Francisco Symphony and prepared vocalists for Opera San Jose, Symphony Silicon Valley, and West Bay Opera. Kent previously conducted youth choruses at the San Francisco Conservatory of Music and performed with the Golden Gate Men's Chorus and the Gay Men's Choruses of San Francisco and Boston. Kent currently serves as the California Choral Directors Association Children's and Community Youth Repertoire and Resources Chair.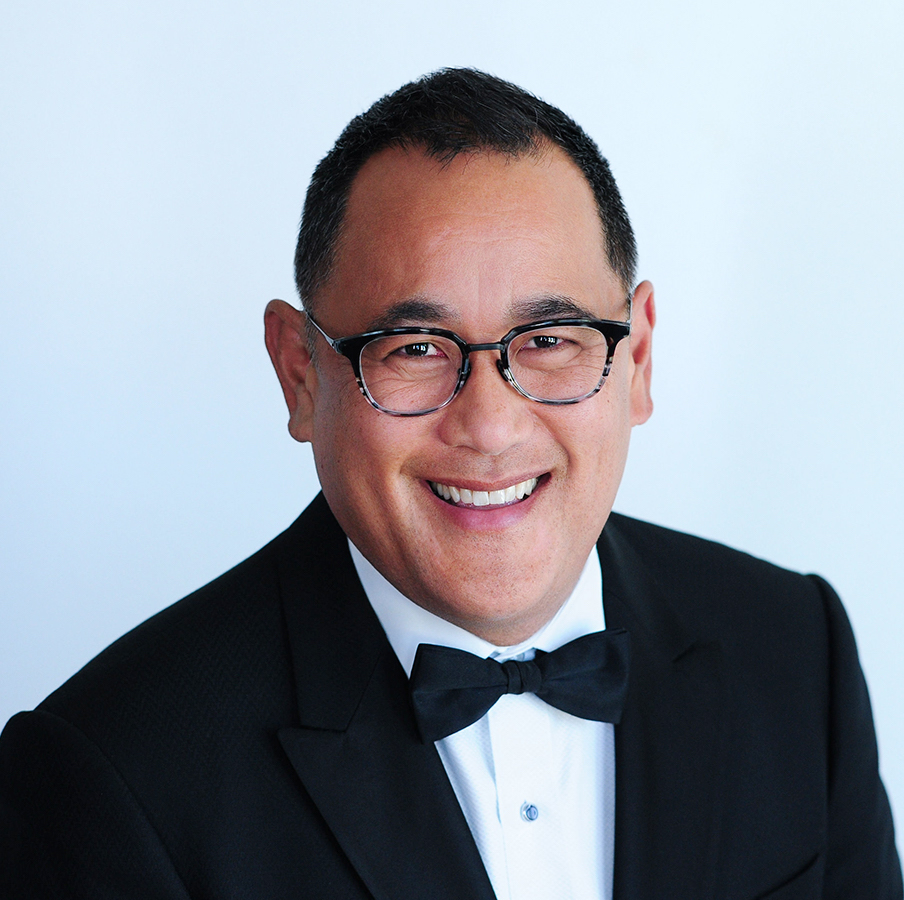 Resounding Achord
Kristina Nakagawa, director
Resounding Achord is the founding choir of Resounding Achord Productions (RAP), a nonprofit organization based in San José, California. From their beginnings in 2012, the choir has been faithful to creating a positive, family friendly member experience, while maintaining a high performance standard with accessible music for both singers and audiences. Besides being musicians, the choir's members are teachers, students, engineers, administrative professionals, scientists, lawyers, caretakers, and retirees. Repertoire is selected from all musical periods and a multitude of world cultures.
RAP is committed to fostering lifelong singing; thus, the organization has provided young singers with the opportunity to experience state and regional honor choirs, awarding over $60,000 in need-based scholarships to more than 400 students.
Kristina Nakagawa is the founding Artistic Director of Resounding Achord Productions, and has been performing in Silicon Valley since 2001. She is also the Executive Artistic Director of Vivace Youth Chorus of San José, and previously directed choirs at San José State University, UC Irvine, Pinewood School, and St. Francis Episcopal Church.
Ms. Nakagawa has a degree in Vocal Performance from UC Irvine where she studied conducting with Joseph Huszti, and a Master's Degree in Choral Conducting from San José State University. While at SJSU, she was honored to study with Dr. Charlene Archibeque and sang with the world-famous Choraliers. Kristina is currently President-Elect for the California Choral Directors Association. She and her husband, Ryan, are the proud stage parents of their son, Russell.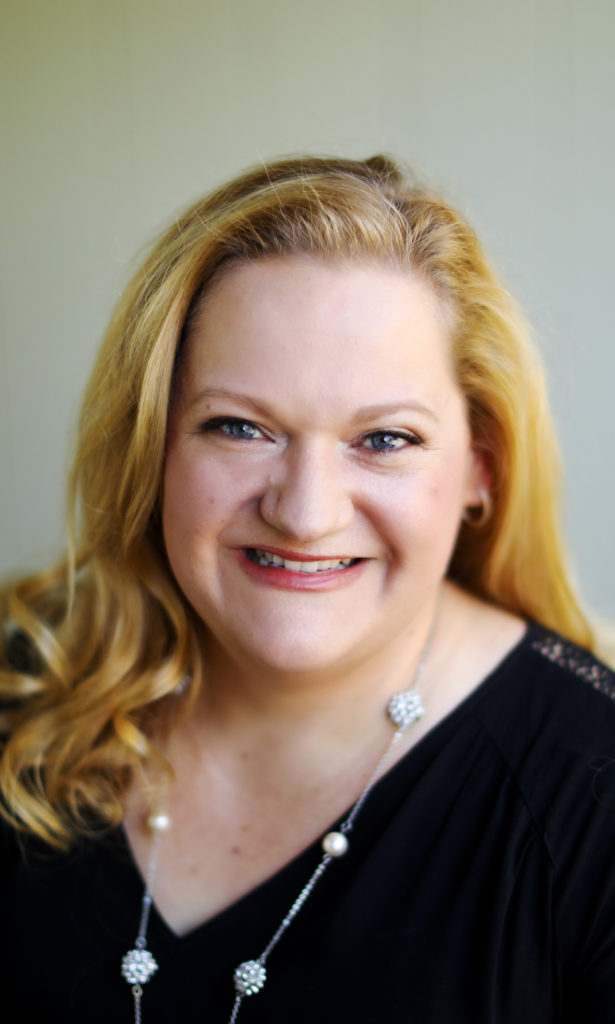 Riverside City College Chamber Singers
John Byun, director
The Riverside City College Chamber Singers have performed at the American Choral Directors Association Western Divisional Conference in Tucson 2010, Santa Barbara 2014, and Salt Lake City, 2020. They have also performed at the ACDA National Conference in Chicago 2011, Minnesota 2017, and Dallas 2021 and at the NCCO national conference in Fort Collins 2011 and Portland 2015 and at the CASMEC conference in San Jose, CA 2016.  The Chamber Singers have competed nationally and internationally taking first place at the California International Choral Competition 2011, The Eisteddfod Choral Competition in Wales 2009, at the Yeosu International Choral Competition in Korea 2013 and at the Choral Competition in Spittal, Austria 2015.  They often have opportunities to perform with special guest artists such as Don Shelton (member of the Hi-Lo's), Grammy Award Winner Jon Secada, the TED Talks and NAMM Show with Eric Whitacre, and as chorus for the Star Wars in Concert. 
John Byun received his Bachelor of Music in Vocal Performance from University of California, Irvine and his Masters in Choral Conducting from California State University, Long Beach.  He is the director of Choral and Vocal Activities at Riverside City College, where he directs the Chamber Singers and the Vocal Jazz Ensemble. He has been the guest conductor for several district honor choirs, SCVA Men's Honor Choir, Central California Women's Honor Choir, Texas Honor Choir Region 9, Clark County, NV Honor Choir and at the NWACDA Regional Conference. He has also conducted All State Honor Choirs in North Carolina, Tennessee, New Mexico, and Arizona. Mr. Byun maintains the John Byun Choral Series with Pavane Publishing, O vos omnes and Sitivit anima mea, and Love Song by Richard Burchard, O Nata Lux, Born of Light by Kevin Memley, Witness and Get Away Jordan by Stacey Gibbs, Saeya Saeya by Young-Ah Kim, and Magnus Dominus and Gaudium et Pacem by John Tebay.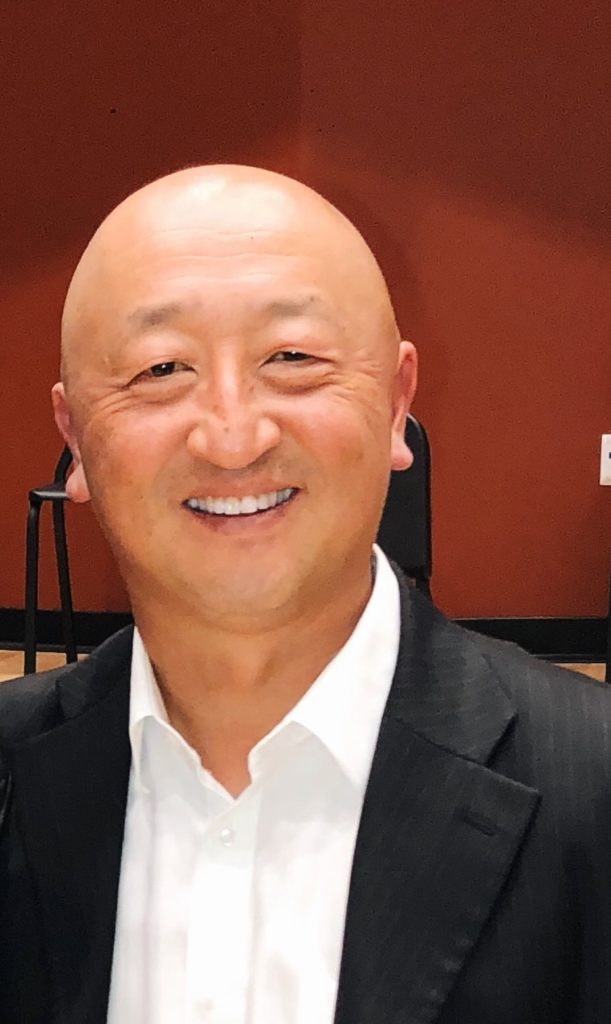 San Juan Hills High School Chamber Singers
Michael Ushino, director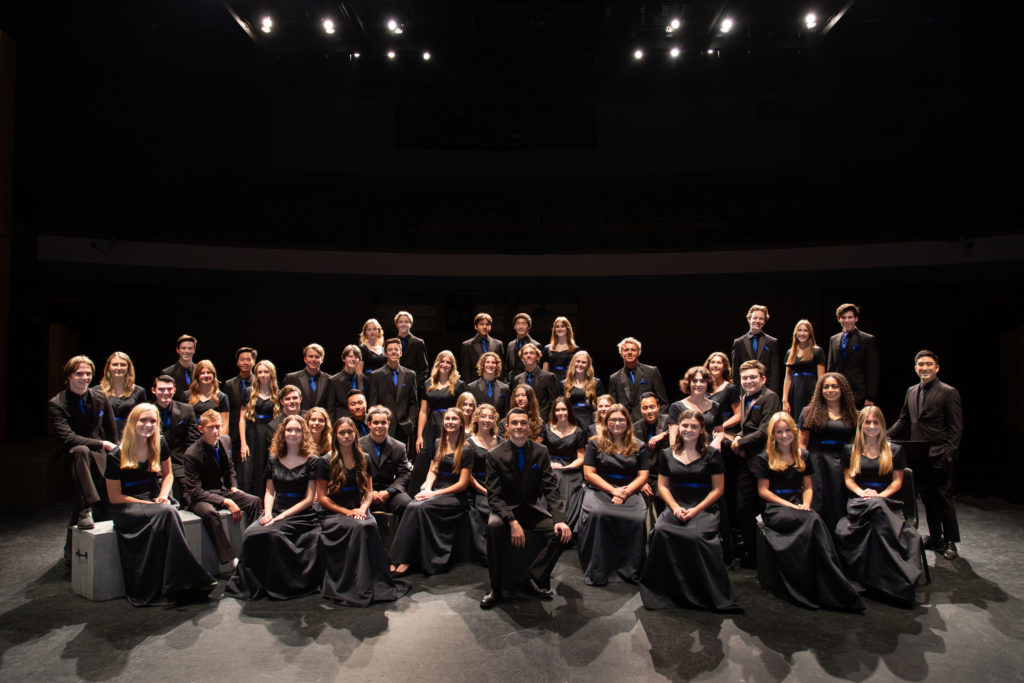 The San Juan Hills High School Chamber Singers is the most advanced audition-only choral ensemble in the Choral/Vocal Arts Department at SJHHS. The Chamber Singers have built a reputation of singing challenging works from a variety of historical periods of music and cultures from around the world. In February 2023, the Chamber Singers performed at the California All-State Music Educators Conference in Fresno, California. The choir has also been invited to perform at many functions around the Capistrano Unified School District and is proud to be a part of the SJHHS Stallion Family. 
Michael Ushino serves as the Director of the Choral/Vocal Arts Department and the Vocal Music Conservatory at San Juan Hills High School. He received his Masters in Music from the Bob Cole Conservatory at California State University, Long Beach and also studied at University of California, Irvine. His conducting mentors have included Professor Emeritus Joseph Huszti, Dr. Jonathan Talberg, and Keith Hancock. He currently serves as the President-Elect of the Southern California Vocal Association and previously served as the High School Honor Choir Vice President. Michael also currently serves as the Co-Artistic Director of the Men in Blaque, based in Irvine, California.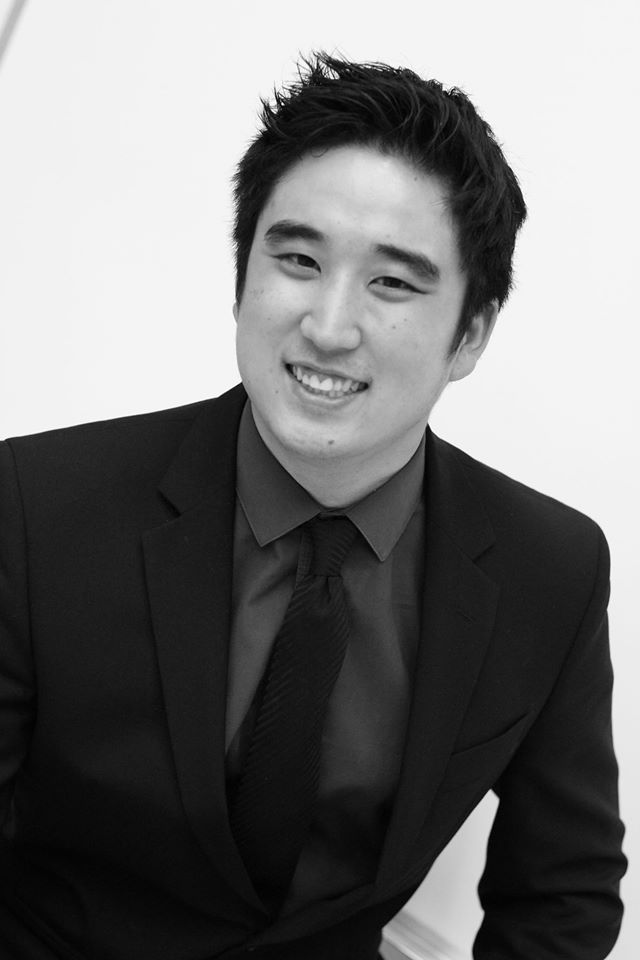 Blue Notes, Saugus High School
Kaitlin Holt, director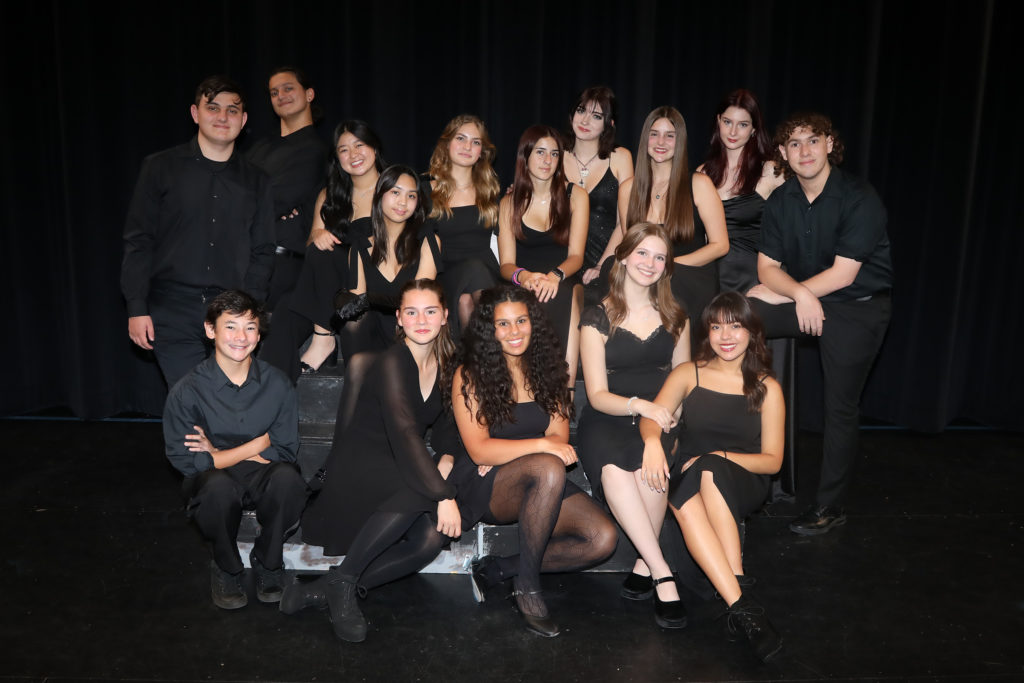 Blue Notes from Saugus, CA is Saugus High School's top vocal jazz choir. Under the direction of Kaitlin Holt for the past five years, this award-winning ensemble has sung in various jazz festivals and competitions throughout Southern California, including the Fullerton College Jazz Festival (First Place in HS Vocal Jazz/Intermediate, 2022; Third Place in HS Vocal Jazz/Advanced, 2023). Blue Notes has worked with Kerry Marsh, Jeremy Fox, Christine Guter, and more, and consistently has singers place in both Regional and All-State Vocal Jazz High School Honor Choirs, with five students in both last year. Saugus High School Blue Notes comprises inspiringly resilient students who are honored to be performing at their first ACDA conference. Professional recordings can be found at https://soundcloud.com/sauguschoir and https://www.youtube.com/@sauguschoir.
As head of the choral program at Saugus High School in Saugus, California, Kaitlin Holt directs five award-winning vocal ensembles and teaches the Music Industry Career Technology Pathway courses. She actively performs with various groups in the Los Angeles area, including her all-female acapella quartet "Angeles," and often taps into her wide network of music colleagues to bring Master Classes to her students. Kaitlin holds a Bachelor's Degree in Music Education, Choral Studies from CSU Long Beach, an Associate's Degree in Jazz Studies from Cuesta College, and recently completed the coursework for her Masters in Choral Conducting from CSU Los Angeles. Currently serving as the Southern California Vocal Association Vocal Jazz Festival chair, Kaitlin works to mainstream jazz education and incorporate improvisation into choir curriculum.
Sterling Ensemble Los Angeles
Michelle Jensen, director
Sterling Ensemble Los Angeles is a semi-professional choir, founded in 2018 by Artistic Director Michelle Jensen. This community of singers specializes in performing historic literature from diverse voices and workshopping new music with local artists. Collaborations include GRAMMY®-winning artists Hila Plitmann, Sangeeta Kaur, Danaë Vlasse, and Ben Bram. While most members studied music in college, many are now employed outside of the field. Teachers, military members, business leaders, and entrepreneurs join with professional musicians two hours a week to make excellent choral music. This is the ensemble's second performance at an ACDA Conference, after performing at the 2023 National Conference in Cincinnati. Sterling Ensemble is currently in residence at St. Andrew Catholic Church in Pasadena.
Michelle Jensen is a Los Angeles-based choral conductor, clinician, and teacher. In addition to directing Sterling Ensemble, she serves as the Director of Choral Activities at Azusa Pacific University, where she is also the Director of Graduate Choral Studies and the Conductor of the university's Chamber Singers. She has studied conducting with Charlene Archibeque, Lucinda Carver, William Dehning, Paul Salamunovich, and Jo-Michael Schiebe; and composition with Morten Lauridsen. Jensen has led choirs to place first in such prestigious international music competitions as Chorwettbewerb Spittal an der Drau and the Llangollen International Musical Eisteddfod. She also serves as an adjudicator and honor choir conductor. In 2019, she was invited to conduct the Connecticut All-State Mixed Choir.
Tesoro High School Vocal Ensemble
Keith Hancock, director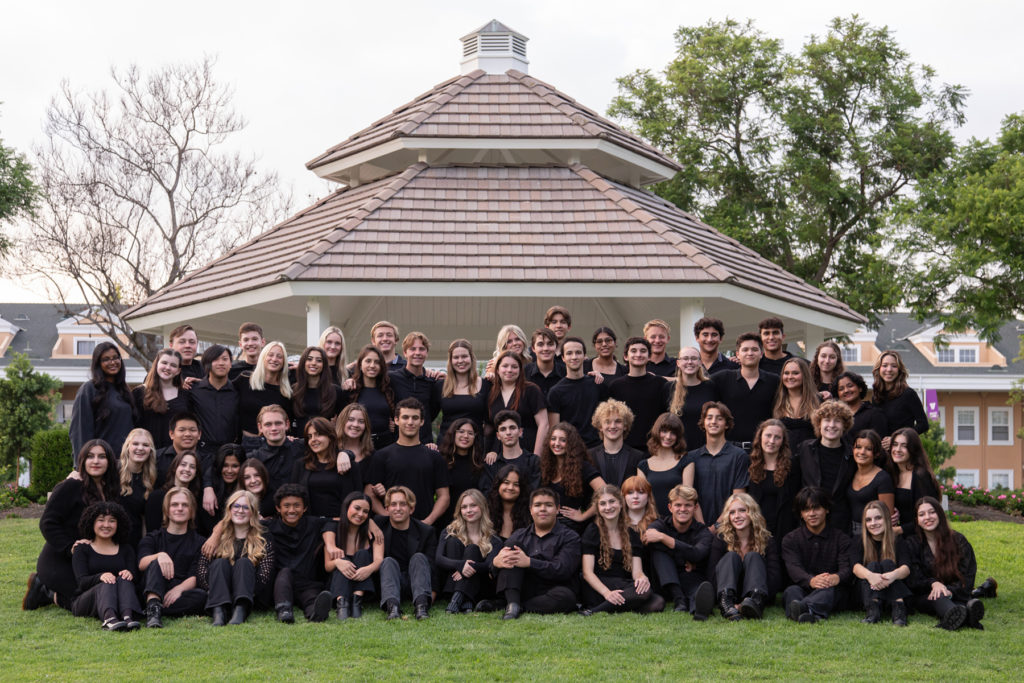 The Tesoro HS Vocal Ensemble has accepted invitations to perform at two previous ACDA Western Division Conferences (2012, 2016).  They have performed and/or recorded with or opened for a growing list of A-list performers, including Jason Mraz, Sara Bareilles, Colbie Caillat, Johnny Mathis, Five for Fighting, Quentin Tarantino, Mark Lindsay, Take 6, Eric Whitacre, Morten Lauridsen, Gordon Goodwin, and Ruben Studdard.  They are multiple winners of the Golden State Choral Competition and they have performed in Carnegie Hall, the Grand Ole Opry, and Staples Center.  Vocal Ensemble has performed several major choral/orchestral works with the Tesoro orchestra.  They tour annually, performing around the U.S. as well as international locations such as France, Spain, England, Ireland, Germany, Austria, Switzerland, Luxembourg, Canada, Costa Rica, and Mexico.
Keith Hancock is in his 22nd year teaching at Tesoro HS. He was recently named the Grammy Music Educator Award winner, a top 50 finalist for the Global Teacher Prize, one of the 10 CMA National Teachers of Excellence and one of the 100 Most Influential People of Orange County. Mr. Hancock has frequently collaborated with Grammy-award-winning singer-songwriter Jason Mraz, arranging, conducting and recording for his album, Know, and performing with him on his tour.  Mr. Hancock is also a contributor to Careers Through Music, a book/video presented by Alfred Music and the Grammy Museum Foundation.  Mr. Hancock holds a M.A. in Education and a B.M. in Music Education and Choral Conducting (Summa cum Laude), and he previously served on the faculty at Chapman University.
The Sunday Night Singers
Michael McCullough, director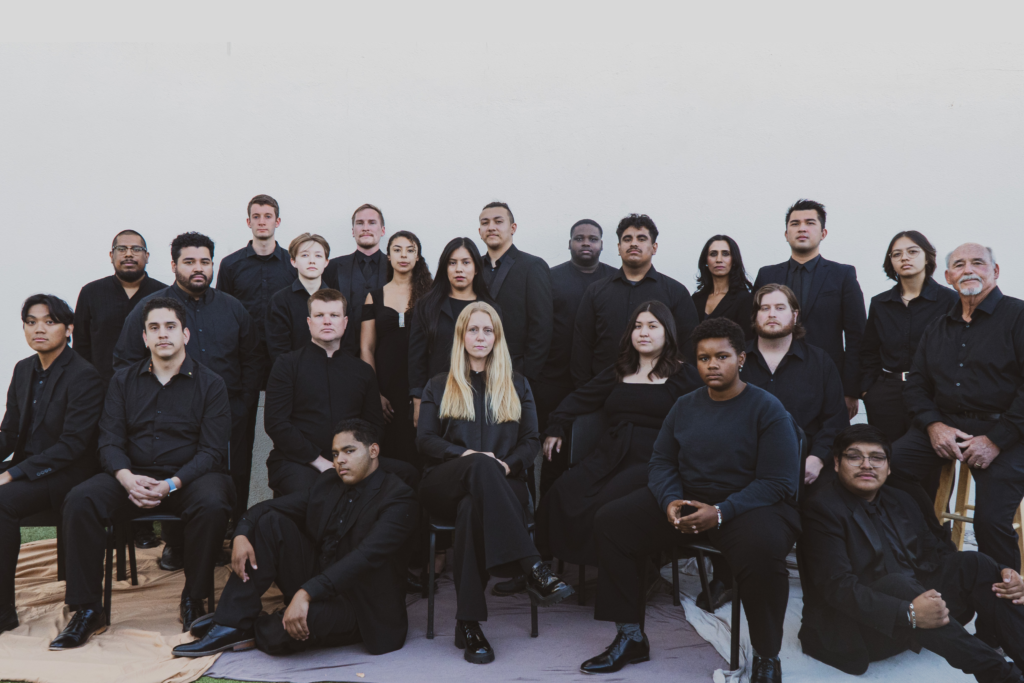 The Sunday Night Singers (SNS) founded by Palmdale High alumni and Artistic Director Mike McCullough in 2005, is a 32-voice community ensemble in the Antelope Valley, CA. From inception, SNS celebrates and uplifts diverse communities, mirroring an authentic and organic representation of the diversity found in LA County. SNS has won the Mixed Chamber Choir category at World Choir Games and has made appearances at WACDA, CCDA, Llangollen International Musical Eisteddfod, and Montana International Choral Festival. Comprising trained vocalists, musicians, composers, and current music majors, the group provides a launchpad for many. Collaborations with composers nationwide have yielded three albums, including "Didn't It Rain" by Stacey V. Gibbs. Through their establishment of SNS Choirs, SNS exemplifies their commitment to fostering the growth of choral music.
Michael McCullough assumed the role of Director of Choral Music at Palmdale High School in 1995. He holds a BM in Voice and an MM in Choral Conducting from California State University, Northridge, studying under the tutelage of John Alexander. He continued his professional certification at Chapman University. With a rich 32-year history as part of the Antelope Valley College faculty, McCullough has conducted the AV Master Chorale and College Singers. He has also taught individual voice, music history, and music theory. McCullough is the Artistic Director of The Sunday Night Singers which was founded to allow former students to continue their pursuit of choral excellence. Notable recordings encompass works by Joshua Shank "The Seasons" and Stacey V. Gibbs "Didn't it Rain".
Thurman White Academy Advanced Choir
Athena Mertes, director
The Thurman White Academy Advanced Choir has been under the direction of Athena Mertes since 2015. Thurman White Academy is a Performing Arts Magnet Middle School program that accepts students through a random lottery system. This 7th/8th grade ensemble consistently receives superior ratings at choral festivals and competitions. This diverse ensemble regularly performs as a guest choir with the Southern Nevada Musical Arts Society. Their recent virtual choir performance of "Don't Give Up On Me" was selected to be featured at the 2022 Western Region ACDA Conference "Stories of the Pandemic." In 2019, they received numerous awards at the Worldstrides Choral Festival in San Diego, California. These awards included: 1st place, Gold, Adjudicator's Award, Outstanding Choral Group, Outstanding Soloists and Overall Sweepstakes.
Athena Mertes is the director at the Thurman White Academy of the Performing Arts, where she has approximately 400 students. In 2020, she received the Teacher of the Year Award from Magnet Schools of America. Mrs. Mertes is the Chorus Master of the Opera Las Vegas Youth Chorus and is a regular performer of concert and operatic repertoire. She has performed as a guest soloist with the Burbank Philharmonic, Las Vegas Philharmonic, Henderson Symphony, Opera Las Vegas, Vegas City Opera, Lexington Opera Outreach, Las Vegas Sinfonietta, and the Southern Nevada Musical Arts Society. This season, she will perform as Marie in The Daughter of the Regiment with Vegas City Opera, and the world premiere of a new opera, Behold the Man with Opera Las Vegas.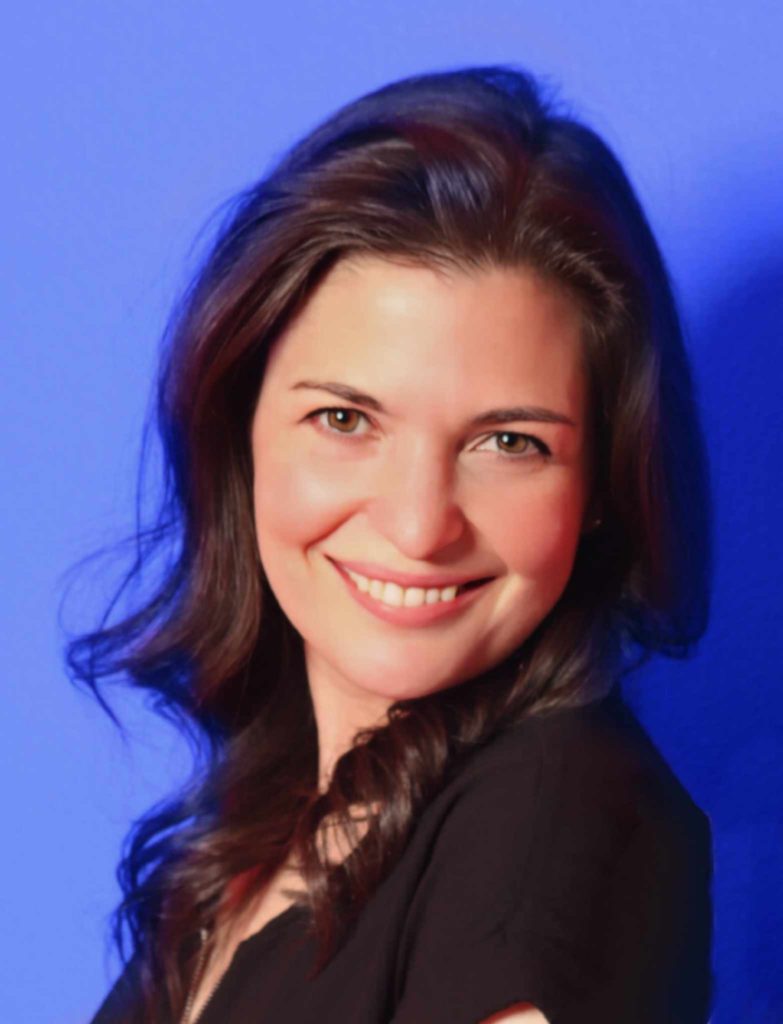 University of Arizona Symphonic Choir
Elizabeth Schauer, director
Symphonic Choir is the premier choral ensemble at the University of Arizona, carrying on a 72-year tradition of joyful excellence. Members hail from throughout the world and represent a variety of majors. The choir regularly engages in musical collaborations in Southern Arizona, including with Tucson Symphony Orchestra, Mariachi Arizona, Reveille Men's Chorus (a GALA chorus), Tucson Girls Chorus and Tucson Arizona Boys Chorus, among others. The ensemble also partners with service organizations in the Greater Tucson area to bring awareness and support to vulnerable populations including refugees, asylum seekers, and unhoused people. The choir's programs amplify voices from throughout history and across the globe, representing diverse populations, perspectives and beliefs. Elizabeth Schauer is in her 20th year as conductor of Symphonic Choir.
Elizabeth Schauer serves as Director of Choral Activities at the University of Arizona, where she is recognized for her innovative and inclusive curricular approach. An award-winning educator, Dr. Schauer conducts Symphonic Choir and teaches graduate conducting and choral literature courses with a student-centered focus to an international population of learners. Former students are active as music educators at public and private schools, churches, colleges and universities throughout the world. Dr. Schauer is in demand nationally as a conductor and presenter, and choirs under her direction have performed on the professional conferences of ACDA, College Music Society, American Guild of Organists and Arizona Music Educators Association.